Year 6 Oak Class
Year 6 Oak Class Key Information
Teacher:     Miss Brown
Teaching Assistants: Mrs Barton and Mrs Dixon
PE day:  Tuesday
Spelling Test:  Friday
Times Table Test: Friday
Curriculum Overview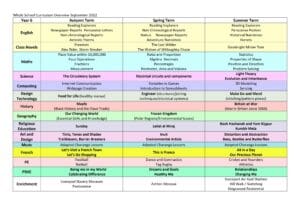 Year 6 22-23 Curriculum Overview
Our Autumn Projects
Click on the pictures for more information about the projects, useful documents and links –
Our Spring Projects
Click on the pictures for more information about the projects, useful documents and links –
Our Class Novels
Our Termly class Novels –
Autumn 1
Autumn 2
Spring 1
Spring 2
Summer
Freedom
Stormbreaker
The Last Wild
The Wolves of Willoughby Chase
Goodnight Mister Tom
Catherine Johnson
Anthony Horowitz
Piers Torday
Joan Aiken
Michelle Magorian
Nathaniel doesn't want to move to England with his master's family, leaving behind his mother and sister on the Jamaican plantation. But then he remembers what his mother told him: once a slave sets foot on English soil, they're free. Perhaps he can earn his fortune and buy his family's freedom, too.
The first book in the number one bestselling Alex Rider series. In the first book in the number one bestselling Alex Rider series by Anthony Horowitz, fourteen-year-old Alex is forcibly recruited into MI6. Armed with secret gadgets, he is sent to investigate Herod Sayle, a man who is offering state-of-the-art Stormbreaker computers to every school in the country. But the teenage spy soon finds himself in mortal danger.
In a world where animals no longer exist, twelve-year-old Kester Jaynes sometimes feels like he hardly exists either. Locked away in a home for troubled children, he's told there's something wrong with him. So when he meets a flock of talking pigeons and a bossy cockroach, Kester thinks he's finally gone crazy. But the animals have something to say. And they need him.
Wicked wolves and a grim governess threaten Bonnie and her cousin Sylvia when Bonnie's parents leave Willoughby Chase for a sea voyage. Left in the care of the cruel Miss Slighcarp, the girls can hardly believe what is happening to their once happy home. The servants are dismissed, the furniture is sold, and Bonnie and Sylvia are sent to a prison-like orphan school. It seems as if the endless hours of drudgery will never cease.
Britain, 1940. With World War Two raging all around, young children are being sent from their homes in the city to the countryside for safety. When eight-year-old Willie Beech first arrives on Tom Oakley's doorstep, neither are quite sure what to make of each another.

Brought up in terrible poverty, Willie is terribly shy, and totally unprepared for village life – but the gruff-but-gentle 'Mister Tom' quickly takes him under his wing. Neither he nor Willie could ever have predicted the journey they will go on together – nor the unbreakable bond that will be formed.
Spelling
Each week we have a list of 10 spellings that follow a particular spelling rule. The children practise these words in class throughout the week but also need to practise these words at home. Click on the documents below to access the termly overviews.
Statutory spellings Years 3 and 4 – word mat
Statutory spellings Years 5 and 6 – Word mat
Our Class Spelling Lists
Maths
Our Maths Curriculum Overview –
Click on the units to download the Knowledge Organisers (A document that contains short explanations, making it clear to the student as to what is essential to learn)
Leavers 2023